Train to Teach (ITT)
We're excited to be working in partnership with Teach First to provide a new School Centred Initial Teacher Training (SCITT) programme. We're offering high quality training that shapes brilliant teachers.
Early Primary (3-7) Click here to Apply
Primary (5-11) Click here to Apply
Secondary Maths Click here to Apply
Secondary English Click here to Apply
Secondary Chemistry Click here to Apply
Secondary RE Click here to Apply
Our one-year programme involves a powerful mix of self-directed, live training and one-to-one support, for both trainee and their in-school mentor. And at the end of it, trainees will be awarded Qualified Teacher Status (QTS) by Teach First and gain their PGCE from our partner Sheffield Hallam University.
What will your course look like?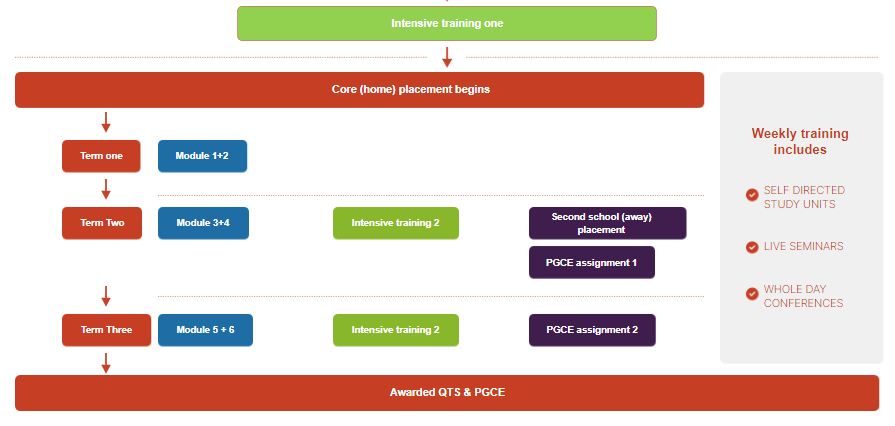 Why choose us?:
Local knowledge-being a Teaching School Hub we have a network of over 300 schools to draw on.

Experience – our training provider, Teach First is the largest Initial Teacher Training provider in the country, and has delivered high-quality teacher education for 20 years.

Expertise - evidence and research-led training created by experts in teaching and teacher development.

Hands on – lots of time in schools to practise teaching throughout the course.

Specialist training – subject-specific training to ensure trainees can build on what they know and make your lessons "come to life" for pupils T supported.
Trainee Benefits:
Online and face-to-face training modules.

Access to expert training materials.

An experienced mentor.

The opportunity to train in a school local to you.
If you have any questions, and would like to talk to The Hub, you can contact us on 0116 3033744 or email: contact@lrtshub.org.uk
Check out our register to book onto our Teacher Training Events: https://forms.gle/nP5xvZ3VhBvevhxs8
For more information about eligibility and bursaries, visit the DfE website here.