Continuing Professional Development (CPD)
We know that every schools' need is different, which is why we have developed our blended CPD delivery to ensure you and your staff can access our events in a way that works for you and your school.
Throughout our CPD offer you will find sessions being delivered in the following ways:
Online Livestream Workshops & Webinars
On-Demand Webinars
Podcasts and Videos
Face to Face Classroom Training
Twilight CPD events
Bespoke 1-2-1
CPD Resource Packs
Bespoke Webinars
Our CPD offer has been designed to complement the Golden Thread, and can be accessed by Teaching practitioners of every level.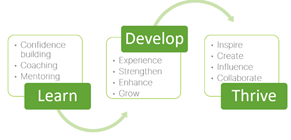 Membership core offer includes;
Annual Teaching School Conference
DRB Senior Leadership Briefings
Priority access and discounted rates on CPD and training opportunities
Bespoke school improvement support created for your school
High quality, subject specific network meetings focusing on substantive and disciplinary knowledge
EYFS, KS1 and KS2 moderation meeting
Leadership of moderation training – 'Train the Trainer'
Below is an outline our CPD offer, we expect that this will expand as the academic year progresses. You will also be sign posted to courses being ran by our key delivery partners. Our core offer cost is based on your school pupil population: £350 for school population up to 200 £450 for school pupil population up to 400 £550 for school pupil population 401 and over The membership fee is payable by 30th September 2021 and renewed annually.
To book a course please click HERE
The Leicestershire and Rutland Teaching School Hub is a partnership of some of the best schools and teacher development providers in the country. Click the links to find out how they can improve outcomes for your young people.